The American Revolution was a political battle that took place between 1765 and 1783 during which colonists in the Thirteen American Colonies rejected the British monarchy and aristocracy, overthrew the authority of Great Britain, and founded the United States of America. As with any history topic I can't think of a better way for kids to learn about the American Revolution than through reading Historical Fiction.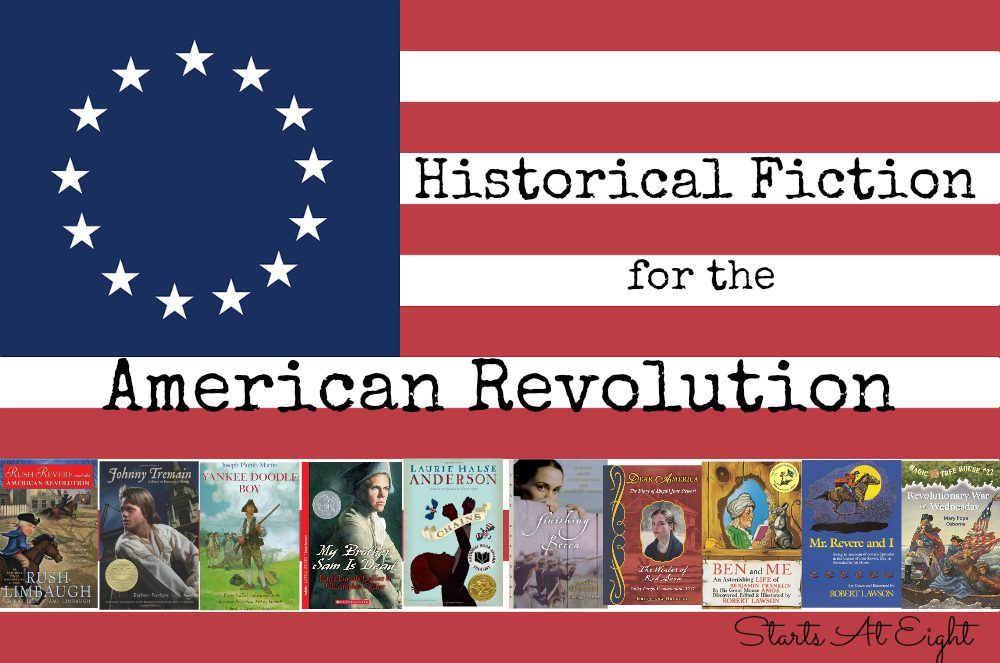 The American Revolution, also known as the Revolutionary War began in 1775 even though tensions between England and the colonies began 10 years before that.
Some notable people during this time period were:
George Washington – U.S. President, General
Andrew Jackson – U.S. Representative, U.S. President, Judge, Lawyer
Abigail Adams – U.S First Lady
Paul Revere – Folk Hero
Thomas Jefferson – U.S. Vice President, U.S. Governor, Government Official, Diplomat, U.S. President
John Adams – U.S. President
Benjamin Franklin – Scientist, Inventor, Writer
Patrick Henry – U.S. Governor, U.S. Representative
Benedict Arnold – General
You can find out more about these people as well as many facts and important events during the American Revolution at Kid Info.
Historical Fiction for the American Revolution
1. Rush Revere And The American Revolution – Liberty, the wisecracking horse, Cam, Tommy, Freedom, and Rush Revere are off to meet some super-brave soldiers in the year 1775.  Throught them you will visit with the underdog heroes who fought for American independence, against all odds—and won! But not before eight very real years of danger and uncertainty. Be a part of Rush Revere's crew as you rush, rush, rush into a time when British rule had become a royal pain, and rebellion was in the air. You'll be there to see two lanterns hung in the Old North Church, prevent a British spy from capturing Paul Revere, and grapple with danger at the battles of Lexington, Concord, and Bunker Hill.
2. Yankee Doodle Boy – Yankee Doodle Boy is the story of a young soldier's experiences during the American Revolution. It is a personal account of the hardships, humor, and intense patriotism of these young men who served under George Washington.
3. Johnny Tremain – The Year: 1773. The place: Boston. Johnny Tremain is fourteen and apprenticed to a silversmith. He is gifted and lords his skills over the other apprentices, until one day his hand is horribly burned by molten silver. Johnny's dreams of silversmithing are over. A depressed Johnny finds work as a dispatch rider for the Committee of Public Safety, a job that brings him in touch with Boston patriots—and the excitement that will lead to the Tea Party and the Battle of Lexington.
4. My Brother Sam is Dead – All his life, Tim Meeker has looked up to his brother Sam. Sam's smart and brave — and is now a part of the American Revolution. Not everyone in town wants to be a part of the rebellion. Most are supporters of the British — including Tim and Sam's father.
With the war soon raging, Tim know he'll have to make a choice — between the Revolutionaries and the Redcoats . . . and between his brother and his father.
5. Chains (The Seeds of America Trilogy) – This is the first in a trilogy that chronicles the life of Isabel, a slave.
6. Finishing Becca: A Story about Peggy Shippen and Benedict Arnold – An independent-minded young maid tells the story of social-climber Peggy Shippen and how she influenced Benedict Arnold's betrayal of the Patriot forces. Revolutionary Philadelphia is brought to life as Becca seeks to find her "missing pieces" while exploring the complicated issues of the war between the impoverished independence men and the decadent British Tories.
7. Dear America, The Winter of Red Snow – Eleven-year-old Abigail Jane Stewart's fictionalized diary about her life, family, friends, and neighbors, and the sides they have to choose in Valley Forge, Pennsylvania, during the height of the Revolutionary War, renders a vivid portrayal of one of the most memorable and crucial winters in American history.
8. Ben and Me: An Astonishing Life of Benjamin Franklin by His Good Mouse Amos – Ever wonder where inventors get their ideas? As it turns out, the great inventor Benjamin Franklin got his best ideas from a mouse named Amos! Funny, interesting and wise, this classic tale has been a favorite for generations. Once you've met Amos and read his account, you'll never think of Ben Franklin-or American history-quite the same way.
9. Mr. Revere and I: Being an Account of Certain Episodes in the Career of Paul Revere, Esq. as Revealed by his Horse – Paul Revere didn't make his famous midnight ride alone. Meet a patriot unlike any other: Scheherazade, the mare who doesn't mind mentioning she was once the fastest and most admired horse in the King's army. But on arrival in America, "Sherry" is quickly let down by her British rider and recruited by Sam Adams to join the Sons of Liberty. Before long, she finds herself teamed with Raul Revere to play a key-if unnoticed-role in the American Revolution. Full of wit and wisdom, this beloved classic presents an unforgettable view to the birth of a nation-straight from the horse's mouth!
10. Magic Tree House #22 Revolutionary War on Wednesday – In this book Jack and Annie go back to colonial times. General George Washington is about to lead his army in a sneak attack against their enemy. But now a terrible weather is making the great general question his plans. Can Jack and Annie keep history on track?
Do you love historical fiction like I do? Are you looking for more historical fiction resources?
See all my historical fiction resources below: