It has been awhile (I think 2 weeks) since I have posted any thoughts about Gone with the Wind.  My thoughts throughout the first 2/3 of the book were running to Scarlett and her delusions about Ashley.  I find myself wondering, is she just naive, has he mislead her, is there something we are missing?  When Ashley comes home on a one week leave we find Scarlett in yet another reverie about what he might feel for her.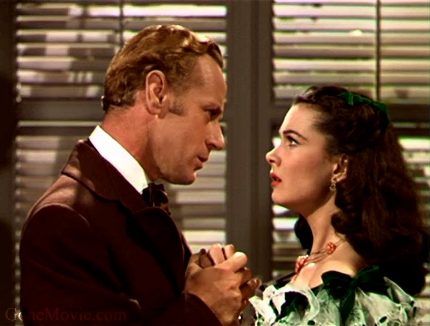 "And while they talked she could perhaps read in his eyes some quickening of emotion, some hint that behind the barrier of husbandly affection for Melanie he still cared, cared as passionately as on that day of the barbecue when he burst forth with the truth.  It did not occur to her to plan just what they would do if Ashley should declare his love for her in unmistakable words.  It would be enough to know that he did care….Yes, she could wait, let Melanie have her happy hour of squeezing his arm and crying.  Her time would come.  After all, what did a girl like Melanie know of love?"

~
I found myself irritated time and time again with how childish, self-centered, and delusional Scarlett could be.  She spent so much of her time daydreaming about Ashley and how he felt for her that it interfered with everything else. Scarlett turned any bit of scrap from Ashley into something about her.  When a letter finally arrives at Tara from Ashley, Scarlett again turns to these hidden delusions pertaining to his sentiments being meant for her.   His letter is written to his wife, Melanie.  After Melanie faints from hearing there is a letter from Ashley and he is alive, Scarlett read the letter:
"Mrs. George Ashley Wilkes, Care Miss Sarah Jane Hamilton,
Atlanta, or Twelve Oaks, Jonesboro, Ga.
Beloved, I am coming home to you."
Tears began to stream down her face so that she could not read and her heart swelled up until she felt she could not bear the joy of it.  Clutching the letter to her, she raced up the steps and down the hall, past the parlor where all the inhabitants of Tara were getting in one another's way as they worked over the unconscious Melanie, and into Ellen's office.  She shut the door and locked it and flung herself down on the sagging old sofa crying, laughing, kissing the letter.  "Beloved," she whispered, "I am coming home to you."
~
I spent most of the book feeling like she was reading something that was not there, and fooling herself into creating these signs in her head about Ashley having feelings for her.  It wasn't until about 2/3 of the way in that we finally see him really outwardly express his feelings about her.
"You want me to say it?  All right, I'll say it. I love you.  I love you, your courage and your stubbornness and your fire and your utter ruthlessness.  How much do I love you?  So much that a moment ago I would have outraged the hospitality of the house which has sheltered me and my family, forgotten the best wife any man ever had, enough to take you here in the mud like a-"
~
I don't know about anyone else, but I was surprised!  I really did not think Ashley had very strong feelings for Scarlett.  I felt like anything he did betray was more out of childhood lust and teasing than real love.   Obviously, I was wrong, as this admission set into motion so many other things.  Scarlett leaving Tara, marrying Mr. Kennedy who was engaged to her sister, becoming more of a "man" in those times than a woman.  Ultimately going back and cornering Ashley and Melanie into coming to Atlanta so he could run one of her sawmills just so she could have him close to her again.
This leads me to another topic that I plan to talk about in my next post.  Has she no morals, no shame?  What kind of a mockery does she make of commitment and marriage?  Despite how she feels, Ashley is married, and some of the time so was she!