What is Educator.com?
Educator.com is an online service that offers video courses in Mathematics, Science, Computer Programming, Software Training, the English Language, Music and even Test Preparation. With a subscription to Educator.com you receive unlimited access to the entire library of courses as well as all future releases for the duration of your subscription. You also receive practice problems with step-by-step solutions, downloadable lesson files & slides, and the ability to ask questions!
My teenager and I have had the opportunity to use Educator.com in our home.  As homeschooled teen there are so many great benefits to having and using Educator.com.  Due to the wide variety of upper level courses offered your student can get a quality education for a fraction of the cost of purchasing these courses at a local school, or college.  As a busy mom and blogger I am loving the courses on HTML and Photoshop.  They are especially handy since I can jump right to a section that I want to learn about and don't have to waste valuable time scrolling through all the other stuff.
Pros of Educator.com
The format of the Educator.com website is so easy to navigate with drop down menus for each subject. Then, not only are the courses broken down by subject, and again broken down into their specific course title, but then each course is broken down into sections. Each of those sections not only have a detailed title, but a length of time listed for them as well. This makes it easier to find where you left off, and to have an easy place to leave off as well.
Each lesson is broken down into sessions of manageable lengths from some lasting just a few minutes, to more in depth examples spanning closer to 45 minutes.  What's even better is that even though they are broken down, while you are working your way through the course they still flow from one video to the next so you don't have to stop and click to start each one as you work your way through.
The lessons are presented in both visual and audio formats. Not only do you have the instructor visible and audible on one side of the screen, but you also have the center of your screen acting as a virtual whiteboard where you can see everything written out. This gives it a more personal one on one feel and allows for both visual and audio learners to benefit from the Educator.com courses.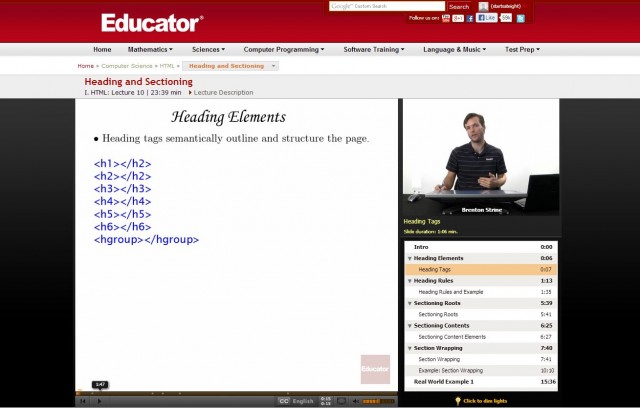 Below each lesson, there are tabs for comments from others.  Some may include questions, observations, or answers in response to user questions.  The other tabs include a Quick Notes Section where there is a bullet point list of the highlights of that section, Downloaded Lecture Slides where you can download specific slides to your computer, a Table of Contents and even suggested Related Books.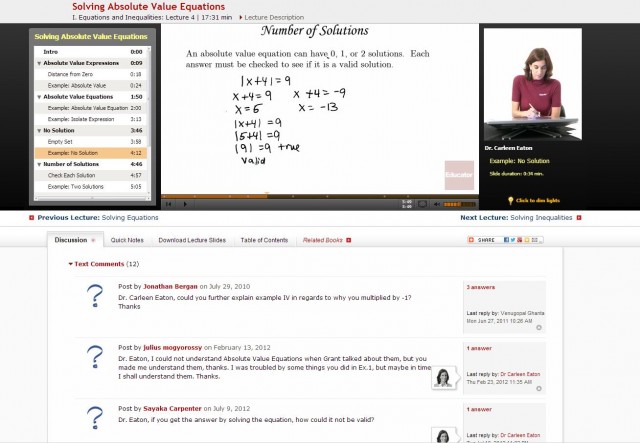 There are sample lectures available so you can get a feel for the service before subscribing.
I would highly recommend Educator.com for high school students. There are many high school science, and math courses available as well as Advanced Placement courses.
Then Educator.com takes it a step further and offer things of interest to college students, and those wanting to continue their education with courses like college level Calculus, HTML, Adobe Photoshop, Java, Adobe Illustrator and so much more!  Therefore you don't have to be a student or homeschooler to benefit from this site!
Cons of Educator.com
I honestly haven't found any major cons to using Educator.com.
I might mention that the courses are definitely for more serious students as they are higher level, in-depth, lecture style courses.
Concerning the cost, I know that upwards of $300 for the year may seem costly and could be listed here under cons, but you are getting not just one or two courses that your student can take, but many! My high school aged student could be taking Psychology, and Adobe Photoshop as electives, along with High School Physics and Algebra II as core courses. That is 4 full year courses for a fraction of the cost you might pay to take one elsewhere!
I know my teen and I have only scratched the surface of the courses offered, but we are very impressed with the variety and extent of courses offered by Educator.com!  It is definitely worth considering when you are planning your homeschool high school years, or preparing for the SATs, and even for a blogger like myself to learn things like Word Press, HTML,  and Adobe Photoshop.