Starting a new school year comes with varied tasks in our house. From clearing out the old, to bringing in the new. One of the things I need to do at the beginning of a new year is Create a New School Year in Homeschool Tracker. This is where I will keep all of my records for the entire year.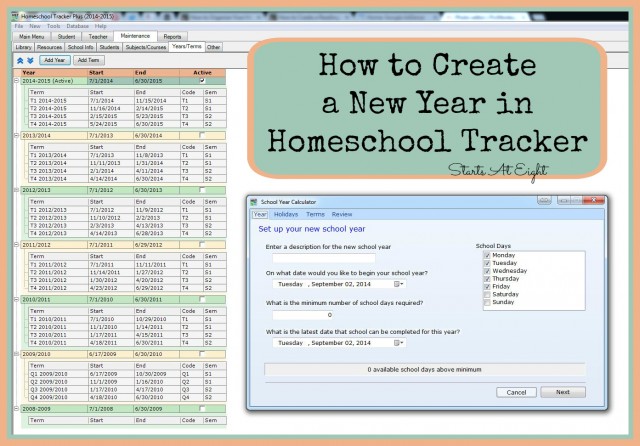 With Homeschool Tracker I keep attendance records, log total time per subject, create weekly assignment sheets for my children, log grades, and so much more.
Steps To Creating a New Year in Homeschool Tracker:
Log-in to Homeschool Tracker
Select the Maintenance Tab in the upper tool bar
Select the Years/Terms Tab in the upper tool bar just below the Maintenance Tab
Select the Add Year Button
Edit the fields in the School Year Calculator which include Year, Holidays, and Terms. This step allows you to title your school year, select beginning and ending dates, select days of week that are school days, create pre-done holiday times and set up the number and length of terms in the school year.
---
To learn more ways to use Homeschool Tracker be sure to check out my other Homeschool Tracker How To posts: