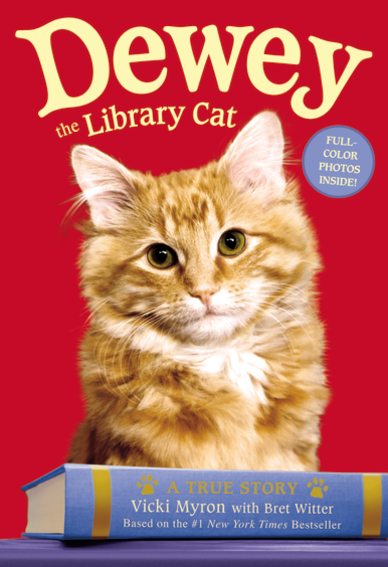 Title: Dewey the Library Cat: A True Story
Author: Vicki Myron and Bret Witter
Copyright Date: 2010;  Hardcover, 224 pages
Publisher: Little, Brown Books for Young Readers
ISBN: 0316068713
Brief Character List: Dewey, Vicki, Kay, Spencer Town Library
Summary in my Words: This is a middle grade adaptation of Dewey:  The Small-Town Cat Who Touched the World. From the beginning when Spencer, Iowa librarian, Vicki Myron finds Dewey in the book drop, to the end when she cradles him in death, Dewey charms everyone.  He spends 18 years living in the library forging relationships with the patrons.
Eliminating most of Myron's personal story as well as observations on economic and social change found in the adult book on which it was based, this shorter children's adaptation focuses squarely on Dewey.  It includes his job description, a list of his likes and dislikes, and other funny pieces from the original book.  Anecdotes such as Dewey's fascination with rubber bands,  finding his way to the ceiling lights, his runaway episode, his bizarre behavior during a bat invasion, and his finicky eating habits make for a great story for children and adults alike to enjoy.
What I Thought: I had heard about Dewey from a friend.  Then I found this book in the juvenile section at our local library so I picked it up for my daughter (Chloe) to read.  Instead, I have read it and she has yet to read it.  I am not a cat lover, at all, but I enjoyed this as the heart-warming story it is meant to be.  I know the story is true but I am a bit of a skeptic as to how Dewey and Vicki were connected and how he could "read her mind".  But with that being said, I laughed, I cried, and I even thought how cool it must be to have experienced something like the town of Spencer was able to with Dewey Readmore Books.
Other Books by Vicki Myron and Bret Witter: Dewey:  The Small-Town Library Cat Who Touched the World, Dewey:  There's a Cat in the Library!, Dewey's Nine Lives:  The Legacy of the Small-Town Library Cat Who Inspired Millions