Tis the season of starting back to school, either public, private, or homeschool. In our case it will be back to homeschool, but not until after Labor Day! It can be fun to do something different or special to kick off your new school year. Here are some fun back to homeschool ideas to spark your interest!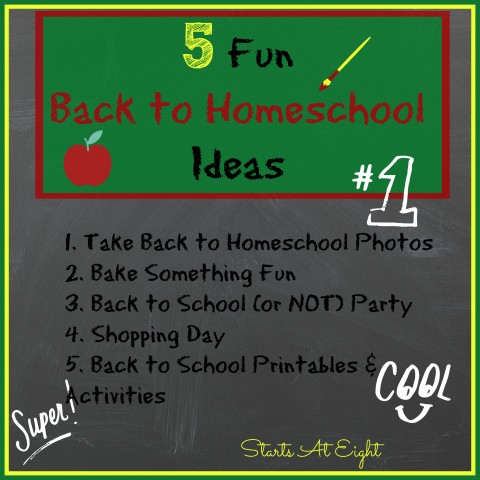 1. Take Back to Homeschool Photos
Every year around this time I see tons of back to school photos being taken, particularly in the homeschool community. It is a fun way to commemorate the new year, as well as to document the changes since the previous year.  We often include ours in the iHomeschool Network's Not Back to School Hop.
Many photos will include information details like grade level, age, words of favorite things, etc. There are many ways to do this. One way is to create a sign for them to hold. Here is a FREE Printable Pack of Back to School Signs. You can also find fun ideas here: 30+ Free Printables for First Day of School Photos
2. Bake Something Fun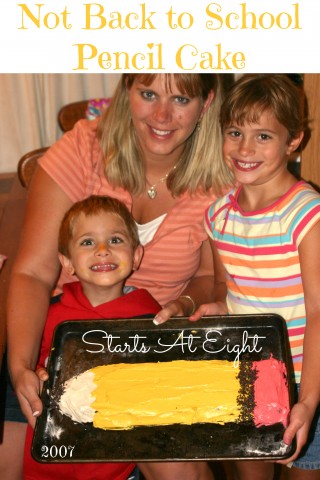 One year we spent our first day baking cakes and creating this fun pencil design to enjoy. The possibilities are endless for baking, or cooking a special meal to celebrate the day.
3. Back to School Party or Not Back to School Party
You could have your own fun party with goodie bags at home. You can include favorite treats, school supplies, a new outfit, or whatever you like.
OR you may be like us where your homeschool group has a large party to start the year off!
We call it the NOT Back to Homeschool Picnic. We gather at the park for fun play, mini seminars, a potluck meal, and curriculum/books/resources swap.
4. Shopping Day
Take your kids out to go school supply shopping! Whether homeschool or public school, kids still need things like pencils, crayons, markers, notebooks, folders, etc.  Take them with you and make a fun day of it. Have a special lunch out, or stop for ice cream!
One example of a Back to Homeschool Shopping List
5. Back to School Printables &  Activities
Check out these Back To School Pinterest Boards for loads of fun printables and back to school fun ideas: