On Monday night before settling Ava into bed, I had the task of helping her find her first "Show and Tell" item for preschool.  So I say to her "Ava what do you want to take to share with your friends?  How about a baby doll, or a favorite book?"  Standing in the middle of her room, Ava looked around, surveying the plethora of choices.  She then proceeded to walk over to her dresser and take the tattered Dora shoebox down and open it.  Inside she pulled out a Princess Uno card box with a small handful of the cards still in it.  I thought to myself  "Seriously?",  what would possess her to think of such an item for "Show and Tell", and why?  To this question I am quite certain I will NOT find an answer.  So I gently suggested to her that maybe she would like to take something from her toy box, her dollhouse, or again a baby doll or favorite book.  Without too much hesitation she swiveled around from her dresser and headed for her dollhouse.  What did she find? Daddy.  She chose to take her "Daddy" doll from her dollhouse.  She has a whole family in that house, including a doll she calls Chloe, Poppy, Gommy, and Mommy, although I don't think she calls any of them Jayden.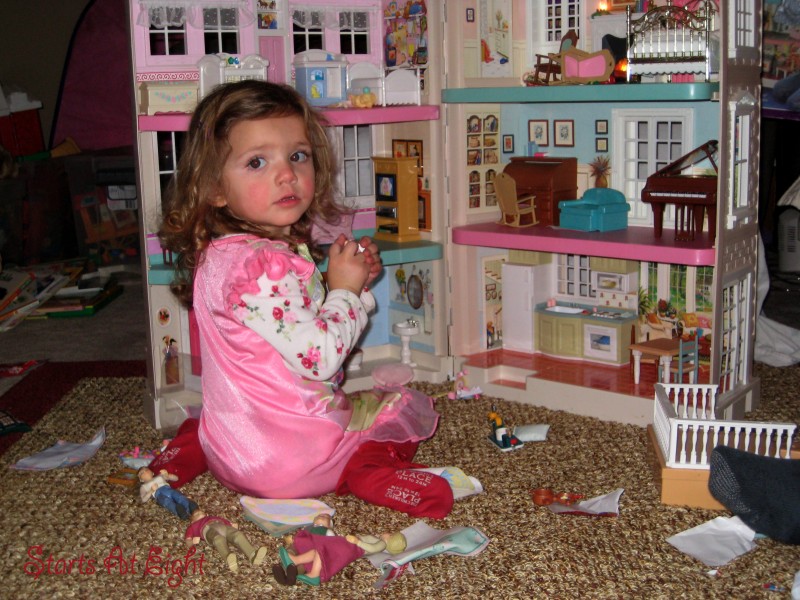 This morning she walked into preschool armed with her pink princess back pack.  Inside was her "Daddy" doll.  She apparently told her classmates about her house and the whole "family" that lives inside!
The photo to the left was taken when she first received the dollhouse.  If you look on the floor near her feet you can see "Mommy" to the left with the blue pants, then "Daddy" at her feet, and then "Gommy" in the pink skirt to the right.  The dollhouse was Chloe's before it was Ava's.  We boxed it up in the original box after Chloe was done with it and since I was pregnant at the time we held on to it until we knew if we would be having a boy or a girl.  When we found out we were having a girl we held on to the dollhouse and all the accessories we had for it.  Ava was delighted to get it as a Christmas present and Chloe has enjoyed having it around and playing with it again with Ava.