Homeschooling the high school years can come with a certain amount of nervousness as to how you might manage a task such as a successful high school education. One of the many options are to enroll your child in one of the following accredited online high school learning options.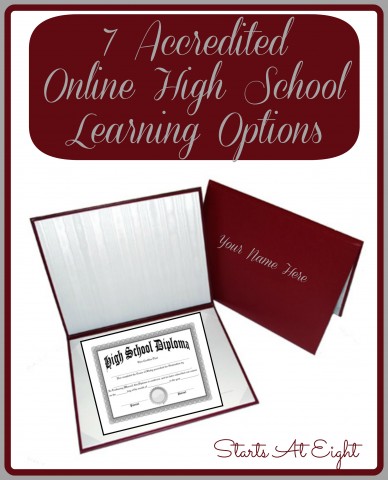 What is Accreditation?
Accreditation provides reciprocity of credits, courses, and grade level placements between schools and universities around the world and validation of the equivalency of diplomas and certificates to other accredited schools and universities. Accreditation helps to ensure a consistent level of quality in a network of participating schools that is valued by the public and by colleges and universities.
Accreditation for high school could be a possible concern for those living in states where the homeschool regulations are more stringent. Here in NYS our children will not actually ever graduate from high school by following our path of homeschooling. One option for us would be to enroll our children in an accredited high school program where they would earn a valid high school diploma.
Accreditation is most often found pertaining to public schools, and sometimes private schools will seek accreditation as well. Online schools can be accredited if they are attached to an accredited university – such as Liberty University's program.
Liberty University Online Academy (grades 3-12) exists to provide students the support of a traditional, residential, Academy while enrolled in a technology-based online homeschooling academic program. This dynamic educational experience combines the resources of Liberty University with the proven elementary and secondary multimedia curriculum structure provided by the Online Academy.
Liberty University Online Academy provides a flexible, yet structured program, customized to meet the needs of each student. Liberty University Online Academy's certified teachers, counselors, and support staff are here to help you succeed in providing a quality homeschooling curriculum for each student.
At Alpha Omega Academy, learning happens wherever your student is, whether across the room, across the country, or around the world. AOA is an accredited online academy for grades K-12, with thousands of students enrolled worldwide.
Choose from over one hundred Christian courses, find qualified teachers, and receive complete parent and student support with AOA! At their online academy, they foster individual achievement through flexible, personalized learning programs that unveil your student's true potential.
With more than 150 online high school courses from which to choose, including multiple levels of core subjects (from remediation to AP®), students can enjoy an individualized high school program tailored to their goals and abilities. Whether targeting a top-tier university, a local community college, or an immediate career, K¹² will help maximize each student's personal post-high school success.
Connections Academy's comprehensive online high school program is a challenging, standards-based alternative to a brick-and-mortar school curriculum or a high school homeschool curriculum. They offer a wide variety of free online high school courses that provide a solid foundation for whatever path your graduates choose: attending college or starting a career. They combine the latest advancements in online instruction with the best curriculum resources.
Enroll in their fully accredited high school program that is built on strong academic standards, and reflects their deep commitment to meaningful and creative college and career preparation. Included in this program are features like dedicated teacher support, assurance of accredited transcripts and a diploma, mall size (under 300 students enrolled in our high school) ensures excellent individualized support, and a spring graduation ceremony to celebrate students' unique educational achievements.
Earn your Accredited High School Diploma at your pace, on your own terms at Penn Foster High School. Penn Foster is one of the largest regionally and nationally accredited online high schools in the United States, with over 43,000 students enrolled and over 12,000 receiving their high school diplomas each year.
Working with a Diploma Program Consultant will enable you to design a customized solution for your family that can include live, self-paced, independent study, homeschool and even outside courses. Whether your family frequently travels or  has other special needs, or your student is very involved in competition level sports or the performing arts, Veritas Press Diploma Program can be designed to accommodate your situation.  They can help guide you in choosing the curriculum and course levels that will be most effective for your child, and provide you with flexibility in how the course is taken.
OTHER ONLINE OPTIONS COMING SOON:
Online Learning for Middle School
Online Learning for Elementary Ages
Homeschooling High School? Here are some posts you might be interested in: