Ava has been schooled in our home since the beginning, just like her brother. Unlike her brother, and their sister before them, Ava has been schooled differently. She is the most "unschooled" child of the three of them. She is also the youngest .  This is what our 3rd Grade Homeschool Curriculum for 2014-2015 looks like.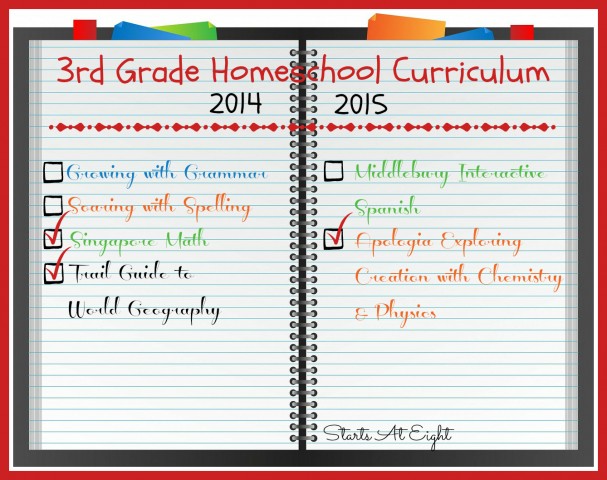 Last year for 2nd Grade we started moving into a more structured routine with Ava.  She began using a math (Singapore Math), spelling (Soaring with Spelling), and grammar (Growing with Grammar)curriculum.  We kept with a more unschooling approach for history and science spending much of our time following her interests with me creating unit studies for many things along the way.  Along with these subjects she dabbled in art, piano, keyboarding and Spanish.
This year we are again traveling into a little more structure and adding a structure curriculum in for science and history/geography.  Both the science and history/geography will be done alongside her brother (6th grade) because they offer multi-level features.
3rd Grade Homeschool Curriculum
English/Language Arts:
We are continuing with the grammar and spelling from last year and adding in cursive handwriting practice.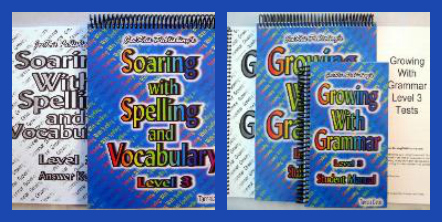 Mathematics:
We are continuing on with Singapore Math this year.
Singapore Math Primary Mathematics – US Edition 3B
History/Geography:
I have used the Trail Guide curriculum in the past.  When I first started homeschooling my oldest was in second grade and we used the US Geography one.  It spurred a desire in her to travel across the country to see specific things.  This year I will be using the world geography one with both Ava and Jayden together.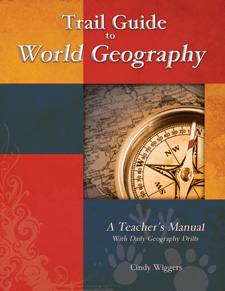 Science:
This will be our first year trying a formal science curriculum.  Ava and our son Jayden (6th grade) will be doing this together.  I love that we can do this because they can share the textbook, but use different level notebooking journals.  We will do the experiments and reading together which will allow me to work with both of them simultaneously.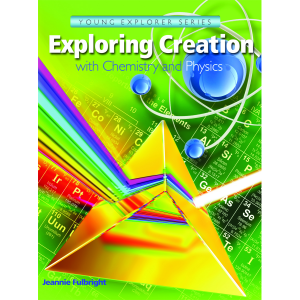 Spanish:
Ava picked up a desire to learn Spanish over the past year.  We have done some things on our own like Learning the Spanish Alphabet, and Teaching Spanish with Music.
This year we have the opportunity to try out Middlebury Interactive Spanish.  You can see some of our experience with the Elementary Middlebury Interactive Spanish (Review Coming Soon).
Music & Art:
We have used so many of the chalk pastel tutorials and books from Southern Hodge Podge. Not only have we directly used the projects offered but Ava has loved using pastels (both oil and chalk) for her own artistic endeavors.  We plan on continuing to use these as part of our homeschool art.
Previous Pastel Projects
 Piano
Ava took up playing the piano this past year using Magic Keys Book One and will continue on with this for 3rd grade.
The plan was to cover the orchestra last year for 2nd Grade but we had the opportunity to try out a Comprehensive Music Appreciation curriculum from Zeezok instead.
While we did cover the orchestra some in that curriculum, we are going to try and review the  orchestra this year including instrument groups, specific instruments, and listening exercises with the plan I had set out for last year.
Orchestra Resources
Keyboarding:

Ava is using a new keyboarding program this year.  We have been given the opportunity to try TypeKids.  See our review of TypeKids.com (Coming later in August).
---
The Big Book of Homeschooling
To get tons of great advice, and move beyond the basics of academics, pick up a copy of  The Big Book of Homeschool Ideas. Some topics included are things like active learning, learning with video games, using LEGO bricks for learning, teaching on the road, learning with movies, high school literature, and gardening.
This book can carry you through all your years of homeschooling, covering the stages your children will mature through: preschoolers, elementary grades, middle school, and high school. As your life situation changes, you will find new chapters that apply to you. You can view the full table of contents to see all 103 topics!