Welcome to the tenth day of 10 Days of The How To's For Book Clubs. Today is the final day in this series, or at least it was supposed to be! 😉 (I will be posting one last book list next week as a Bonus Post). I thought I would share with you an example or two of some things we have done in our mother/daughter teen book club.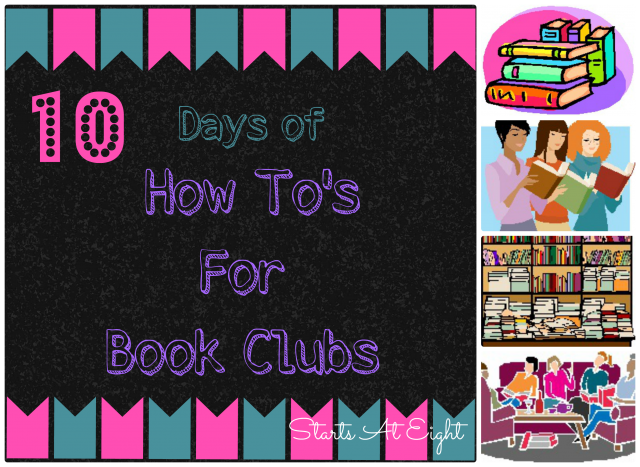 With our mother/daughter book club we meet once a month in each other's homes. The person hosting gets to choose the book, activity, and food array. Sometimes we end up having very book themed based meetings and other times there is no real relation between book and activity or food. The following books are examples of meetings we have had with our early teen girls.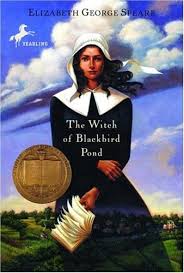 This book is set during the time of the Salem Witch Trials. It is a time period engulfed in accusations, fear, and death. I had not spent much time, at least that I remember, learning about this time period. I got lost in this book so much that I chose another book about the Salem Witch trials when it was our turn to choose.
Summary:
Kit Tyler is marked by suspicion and disapproval from the moment she arrives on the unfamiliar shores of colonial Connecticut in 1867. Alone and desperate, she has been forced to leave her beloved home on the island of Barbados and join a family she has never met. Torn between her quest for belonging and her desire to be true to herself, Kit struggles to survive in a hostile place.
Just when it seems she must give up, she finds a kindred spirit. But Kit's friendship with Hannah Tupper, believed by the colonists to be a witch, proves more taboo than she could have imagined and ultimately forces Kit to choose between her heart and her duty.
Video Book Trailer:
Discussion Questions:
How was Kit's life in the West Indies different from her life in the Puritan colony where her aunt lives?
What was hardest for Kit to get used to?
Should Kit have continued visiting Hannah Tupper?
Was it right for Kit to directly disobey her aunt and uncle?
How could she have kept Hannah as a friend while still doing what her uncle and aunt asked?
Which character do you identify with most? Explain.
The Puritans fled England to escape religious persecution. How did they exclude people of other faiths, such as the Quakers?
Goodwife Cruff targets Kit from the first day they meet on the Dolphin. What does she accuse Kit of being?
How is Goodwife Cruff wrong in her accusations against Kit?
Why don't Kit and her uncle press charges of slander against Goodwife Cruff?
Matthew Wood and Dr. Bulkeley heatedly disagree on politics. What do both men do when Mercy's life is in danger?
Activity:
For the activity we baked Blueberry Cornbread.
Blueberry Cornbread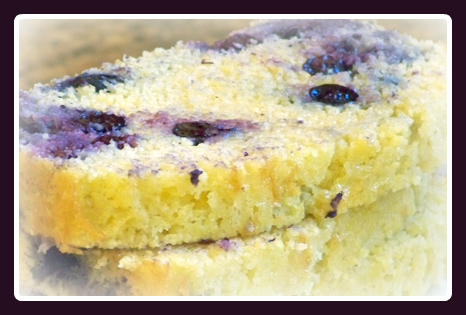 Ingredients:
1 cup yellow cornmeal
1 cup all-purpose flour
¼ cup white sugar
¼ cup brown sugar
½ tsp salt
½ tsp baking powder
½ tsp baking soda
2 large eggs
1¼ cups buttermilk
1 tbs vanilla extract
6 tbs butter
1½ cups blueberries
Instructions:
Note: You can use either fresh or frozen berries. If frozen, thaw and discard any liquid.
Preheat the oven to 325 F and spray a 8-inch square baking pan with non-stick spray. Take one tbsp of the flour and sprinkle it over the blueberries. This will make sure they distribute evenly throughout the cornbread during baking.
Combine dry ingredients in a large bowl.
Mix eggs, Buttermilk and vanilla together in a small bowl.
Melt the butter.
Add wet ingredients and melted butter to the bowl with the dry ingredients and mix until well combined.
Fold in blueberries and pour batter into the pan.
Bake for 40 minutes. The crust should be golden brown. Use a toothpick to see if it is done. If it comes our clean then the cornbread is done!
Allow the cornbread to cool before cutting.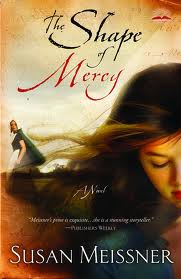 The Shape of Mercy is the book we chose when it was our turn. It weaves the present day in with the time of the Salem Witch Trials. The cool part is that the history is factual (no I don't want to debate the validity of the history, but the book was intended to be written as factual, but Mercy is a fiction character put in that time period to give us a first hand view!
Summary:
Lauren Durough is a West Coast English major. Sheltered in her childhood years by family wealth, she is just beginning to grasp how people judge others by what they want to believe about them; particularly, how the poor mistakenly view the wealthy and vice-versa.
When she opts out of her family's monthly financial support, she takes on a job as a literary assistant to Abigail Boyles, an eighty year-old reclusive, retired librarian. Abigail tasks Lauren with transcribing the diary of Abigail's ancestral cousin, Mercy Hayworth–a woman hanged for witchcraft in seventeenth century Salem, Massachusetts.
The lives of Abigail and Lauren, two very different women, converge as they jointly piece together the life and death of Mercy Hayworth. Lauren finds herself drawn to this girl who lived four hundred years earlier, who also struggled against undeserved cultural stigmatization, but lost. But the more she learns about Mercy, the more Lauren realizes this project is as much about Abigail as it is her ancestor. As secrets unfold, the extent to which the lives of these three women are connected comes to light, and both Lauren and Abigail find their lives and the very way they view the world irrevocably changed.
Discussion Questions:
Lauren spends the better part of the novel steadily convincing herself she is nothing like the typical Durough male heir. Does she have this right?
Near the end of the book Clarissa, Lauren's roommate, accuses Lauren of thinking she is better than everyone else. Why does Clarissa say that? Is it true?
The Shape of Mercy is about three distinct women: Mercy, Abigail and Lauren. What do these three women have in common? What separates them?
Why was it so important to Abigail that Mercy's diary be given to someone like Lauren, rather than be bequeathed to a museum? What difference did it make?
The diary's pages reveal a time and place of tragic historical significance. What emotions did reading the diary evoke within you? If faced with the same dilemma, confess or hang, which would you have chosen?
When Lauren first meets Raul she assumes he is a member of the catering staff. Later she assumes he is a rich, upwardly mobile, pre-med student who cavalierly rolls up the sleeves of $200 Armani shirt. What assumptions did you make about Raul?
Esperanza is convinced Graham wants to have Abigail declared unfit to manage her affairs. Why does she think that? Do you agree?
Were you satisfied with Tom Kimura's response to Lauren's visit and revelations about Abigail? Why or why not?
How might Abigail's life had been different if she had married Tom Kimura? What might have happened to the diary then?
If Lauren hadn't met Abigail and never read the diary, would her life be different?
John Peter tells Mercy shortly before her arrest that it "is easier to believe ill of someone than good." Is he right? Why or why not?
What do you think of Mercy's final act of compassion? Did she do the right thing?
Activity:
This whole book is based around the diary that Mercy wrote during her life. Much of her time is spent thinking and writing about her need for ink. She needed supplies to make ink so that she could continue writing in her diary. This inspired me to make ink as our activity and then let the girls write with it.
How To Make Ink With Berries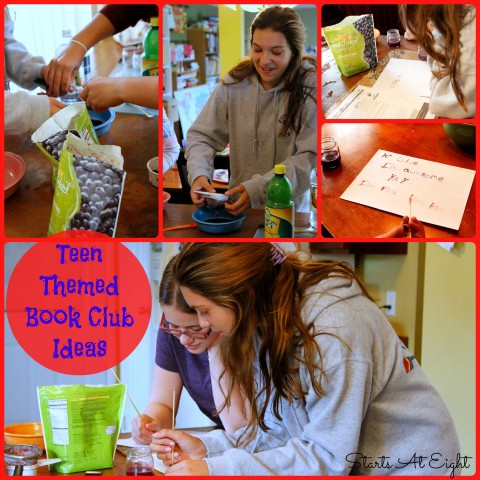 Use 1/2 cup fresh or thawed frozen berries
Push them through a strainer so that you get pulp-free juice
Add 1/2 teaspoon of vinegar (to hold color) and 1/2 teaspoon salt (as a preservative) and mix well.
Use a glass baby food jar as your "inkwell"
We used kebab skewers as our quills but you could certainly buy or collect feathers to use.
Check out our activities for The Giver:

---
Topics in This Series:
Day One: Overview/Landing Page
Day Two: Types of Book Clubs
Day Three: Finding or Starting Your Own Book Club
Day Four: How To Host a Parent/Child Book Club
Day Five: Guest Post – Kids Books to Rev Up The Imagination
Day Six: (Monday, October 21st) Elementary Aged Book List
Day Seven: Favorite Books For Boys
Day Eight: Favorite Books For Girls
Day Nine: Popular Children & Teen Book Series
Day Ten: Example of a Teen Themed Book Club
BONUS DAY: (Monday, October 28th) A Book List of Children's Classics & Other Favorites