I came across Pick and Draw in November of 2010 while perusing through the many wonderful homeschool blogs out there. My husband and I tried the demonstration on their website and loved it! It wasn't until after Christmas that I finally purchased it for my family. (After, of course, trying to win them on various sites!) I can only say that I wish I had just purchased it sooner.  Not only is the game easy and engaging, but Rich's blog is full of great drawing lessons as well.
Rich Davis has been a professional artist and illustrator for many years. You can see his work in children's books, greeting cards, and in coloring books. You can also follow his blog for frequently posted art lessons to enjoy at home. I subscribed to his blog so that I get each new blog post in my e-mail when it is posted. My 11 year old daughter especially loves getting these new drawing challenges for her to try.
The day we received the game in the mail we jumped right in to try it out! Playing this game could not be easier.  You get a deck of 45 cards in a clear storage case.  Inside are cards with directions, as well as drawing tips to help you out.  The deck is split into 5 categories (or more specifically facial features):
Face
Nose
Eyes
Mouth
Hair
Pick and Draw encourages young and old alike to be creative. What I love is that it makes a great springboard for you to start with. You spread out the cards into their 5 stacks. Then you draw one card at a time from each of the facial features stacks, drawing that feature before moving on to the next one. What is so cool is how different each drawing is!  At any given time we might have 3-5 people drawing these cartoon faces and each one looks totally different!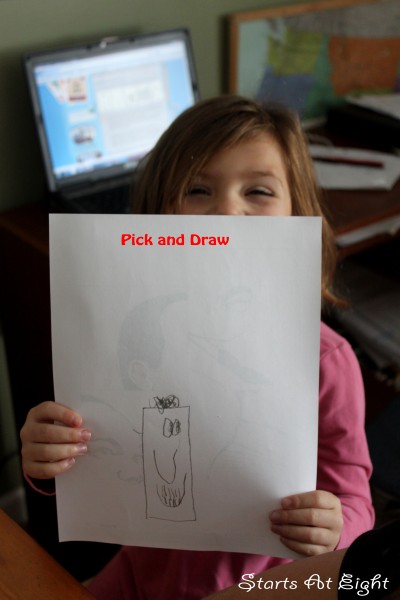 No matter where you are this is an easy game to bring along to help you pass the time. Grab a piece of paper (napkin, paper place mat, piece of newspaper, etc.), or plan ahead and bring paper with you. Then bust out the cards, and draw. From the car to the doctor's office, to flying on an airplane or sitting in a restaurant, this game is an easy and fun way to keep your children (and you) engaged in a fun, interactive, activity.   It is also wonderful because from little to old you can participate without too much thinking, but a whole lot of fun and creativity.  This allows for a wide range of people to participate while still accommodating for an easy flow of conversation.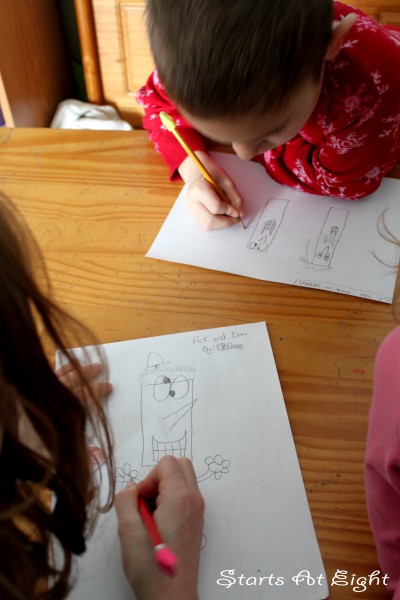 You can adapt and accessorize them any way you like. Purses, earrings, bows and hats, whatever you can think of! Our 11 year old has been turning them into mini comics. She draws two or more cartoon people on one piece of paper. Then she gives them dialogue bubbles. I, on the other hand, like to draw one large face on my paper and use crayons to give it a funky style.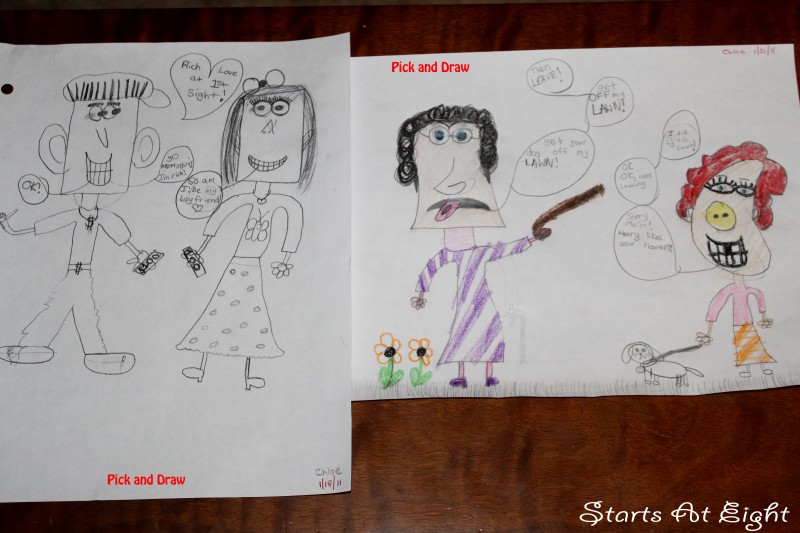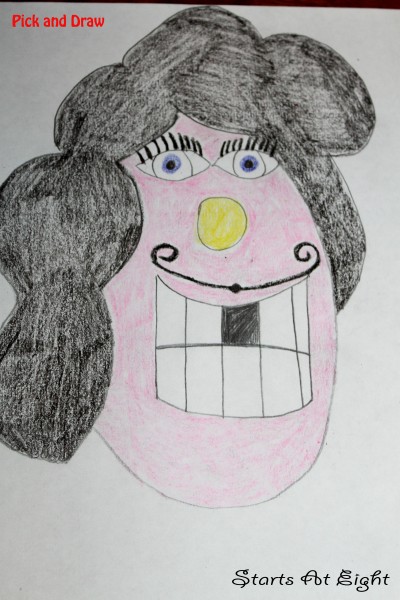 ---
THIS GIVEAWAY HAS ENDED—-Congratulations to our winner, Jen!
---
Pick and Draw is a must have for any house with children. At a price of only $10 is it cost effective for the hours of engaging fun and creativity you will get from it. So please consider clicking here or on any of the icons you see in this review and check out Pick and Draw for yourself. [Maybe even purchase it because you find you love it as much as I do!]
You Can Win Your Own Set of Pick and Draw Cards: To enter the drawing go to the Pick and Draw website and try it out.  Then come back here and leave me a comment telling me what you named the character you created.
You can earn three additional chances by:
1. Subscribing to Rich's drawing blog
2. Subscribing to my blog via Networked Blogs (see top left sidebar)
3. Subscribing to my blog via e-mail (see top left sidebar)
Be sure to leave a comment for each additional entry.  Your comment is your entry.
The drawing will close on Wednesday, February 23rd. I will then draw a winner at random. I will contact the winner via e-mail, so please be sure to use a valid e-mail address when leaving your comments.