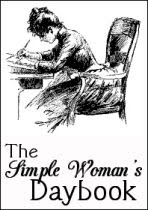 Simple Woman's Daybook
FOR TODAY:
September 14th, 2010…

Outside my window…it is dark.  I am composing some of this late Monday night so that it will cut down on the time I need to spend with this on Tuesday.

I am thinking…about taking a long walk today.  The weather is perfect jeans and a t-shirt, get out and have fun, kind of weather.  Every bit of exercise counts!
I am thankful for…our home.  Friends of our were just devestated by a terrible fire in their home and it looks like they will have to be out of their house for many months until it will be deemed safe and livable again.  It is moments like these when you are especially thankful for what you have.

From the learning rooms…we are doing our first science experiment of the new school year.  It includes flour and dropping things into it.  I don't know about you, but it sounds messy for me and fun for them!  We are learning about the relationship between the height of a meteor and the size of the crater it leaves.

From the kitchen…not sure what is going on in the kitchen, it is breakfast time and the kids are serving themselves whatever their mood suits.  As far as dinner goes, I think hamburger stroganoff is on the meal plan list for today.

I am creating…a knit hat for Chloe.  Last year I started one for Jayden that got put on hold for our lapblanket project.  I just finished his, and now Chloe wants one.  It will be my chance to learn to knit with 2 different colors of yarn.  Then Ava wants on orange hat!  Maybe a year from now I will get to hers!

I am going…to be moving my blog into a more homeschool friendly venue.  I want to include all the links I find useful as well as my thoughts about different curriculums and such.  I often find I will write a link down somewhere or drag it to one of the multiple desktops in our house, only to lose it.  If I store it all here on my blog, then I won't lose it.

I am reading…The Egg and I.  The discussion is on Friday so I need to hurry up and finish.  Plus I am planning on starting All Creatures Great and Small by James Herriot.  Chloe will be reading his Children's Treasury for our Mother/Daughter book club.  I thought it looked like a book a should have under my belt so I ordered the adult version for me.

I am hoping…to try out a new blog post later today call Hip  Homeschool Hop.  It has something to do with sharing and viewing fellow homeschool blogs.  I am not exactly sure what it is all about, but I plan to figure that out today!

I am hearing…Jayden and Ava standing at the backdoor, commenting on how early it is, yet,  "they can't see the trampoline".

Quote for the week…Nothing is more dangerous than a friend without discretion; even a prudent enemy is preferable.

A few plans for the rest of the week: First Photoshop Class!!!, lunch with Poppy and Gommy, Mom's Taxi service is back in action, adult book discussion, Seneca Lake Wine Tour!!!

Here is the picture for thought I am sharing…