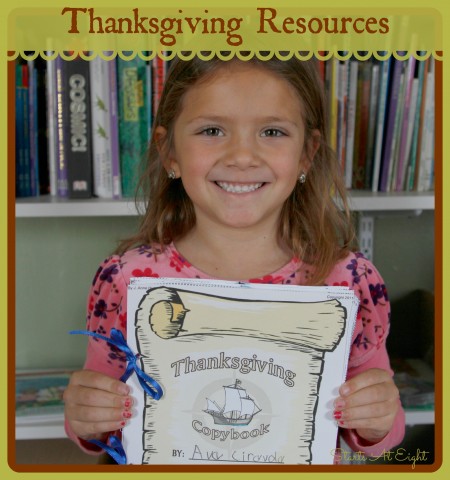 Ava and I have been enjoying doing some fun activities pertaining to Thanksgiving and learning about the first Thanksgiving.  I have compiled some of the resources that we have used as well as some we just didn't get to.
We have been using a Keepsake Thanksgiving copywork activity from The Simple Homeschool.  By doing 2 pages a day we finished the keepsake during the month of November and she is excited to have it ready to show off to our family for Thanksgiving!  It was nice to go over the story of the first Thanksgiving as well as for her to have a chance to work on her handwriting skills.
The Simple Homeschool also has a fun Turkey Activity pack as well!
 Thanksgiving Resources for Thanksgiving Stories
We enjoyed reading the book A Turkey for Thanksgiving by Eve Bunting.  A cute twist on, "having a turkey for Thanksgiving", this holiday book is sure to delight.
With this we used a FREE activity pack to go along with the book that was done by ABCTeach. The activities include a word search, crossword, sequencing activity, comprehension questions and more!
A Thanksgiving favorite in our house is 'Twas the Night Before Thanksgiving by Dav Pilke. Obviously adapted from a Christmas favorite, "Twas the Night Before Christmas, this tale takes a class to a turkey farm where something funny happens to the children before they leave.
To go along with this story we used a Lines of Time activity from Fortunately For You Books to recall the sequence of the story.  Ava likes cut and paste activities like this where she can have a small project to review what she has learned.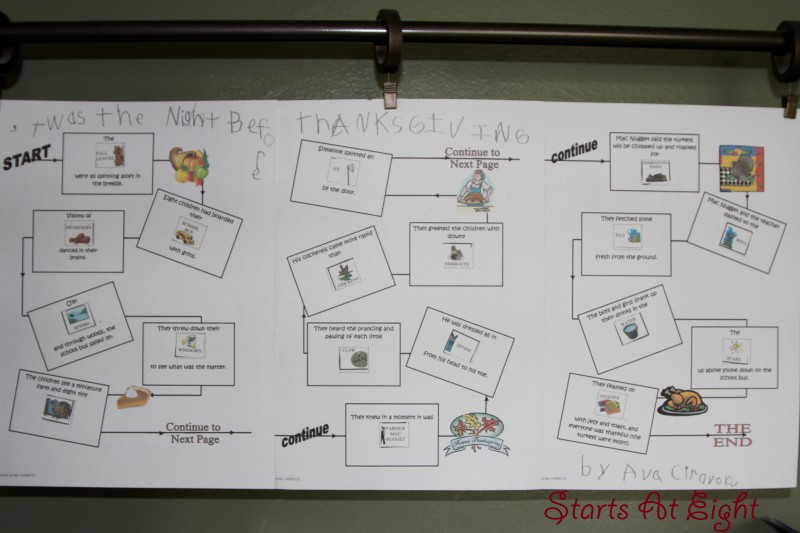 I found this idea for Thanksgiving Story Bracelets 1 & 2 for the first time this year. I already had Thanksgiving Day by Anne Rockwell on our bookshelf and I quickly put The Pilgrims' First Thanksgiving by Ann McGovern on hold at the library so that I could do this activity with Ava.
---
---
Two years ago we did these fun Thanksgiving Acrostic Poems that all the kids really enjoyed. They each got to choose their character (male pilgrim, female pilgrim, turkey) and then write their own poem.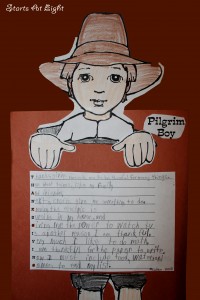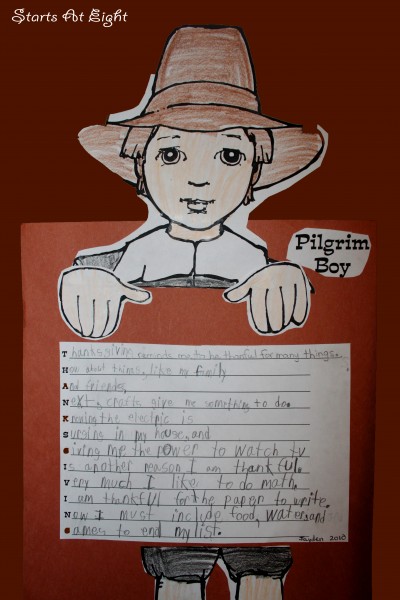 More Thanksgiving Resources
This is a short  Early Elementary Printable/Colorable First Thanksgiving Book.  This is nice for children who love to color and/or children who are not writing yet.  The story is printed out coloring book style so that they can color the corresponding pictures to the story.
This is a great Thanksgiving Lapbook Squidoo.  There are so many activity books and resources here to choose from!
Thanksgiving Pack of Printables & Pinterest Board
40 pg. Thanksgiving Lapbook – FREE Download