Teaching a foreign language can be a seemingly overwhelming task for someone like myself who does not speak any other language besides English. When thinking about what language to teach my children I always thought Spanish and American Sign Language would be the two most useful languages. For this review I was able to try out a Spanish program for ages 2 through early elementary ages (approximately age 10). We have all been told the younger you start the easier it is to learn! Thus Speekee Spanish, which is geared toward young learners makes for a good place to begin.
Speekee is a total immersion Spanish program for young learners which uses a series of 10 video episodes as it's base. Each of the 10 video episodes takes place in a variety of places – a park, the zoo, a home, a restaurant, the beach, the market, etc. Throughout the series children are introduced to the Spanish language through songs, puppets, and skits with native Spanish-speaking children. Along with each video episode there are downloadable worksheets that you print out for the children to do which reinforce the terms learned during that episode.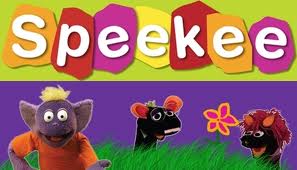 To read the rest of my review, as well as another Hip Homeschool Moms review, and to enter the giveaway, please head over to Hip Homeschool Moms. The giveaway ends December 23rd, 2011!