In honor of Mother's Day some of the iHomeschool Network Bloggers are hosting giveaways of some of their favorite things. My basket is called Mom's Coffee Break Basket.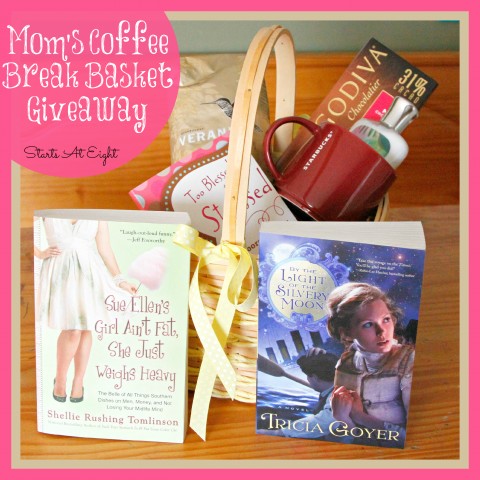 While I don't drink coffee myself, I included it as the feature in my basket because I know that so many moms do love their coffee! My Coffee Break would consist of hot chocolate instead of coffee but would also include the other things in this basket.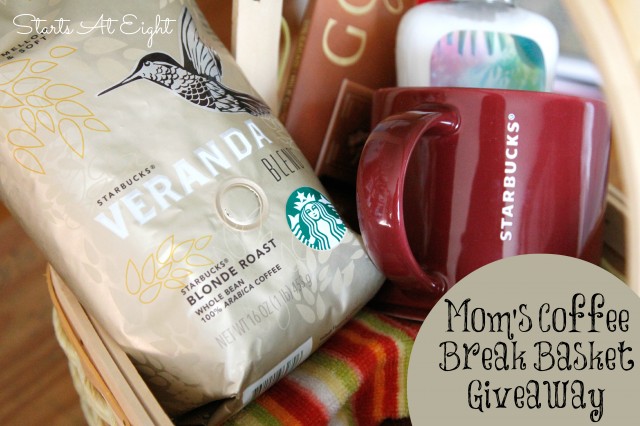 Treat yourself to some Starbucks Veranda Blend Blonde Roast Coffee in your new over-sized Starbucks coffee mug.  I am told this one is a coffee lover's dream! 🙂
I am an avid reader  thus I have included some copies of books that I have enjoyed reading recently.  From the just for fun, to the pick me up self helper,  each read will make a great curl up with your coffee and read moment.  (And yes sometimes I know it is only moments at a time that we may get!  There are many days I am lucky to get even 5-10 pages of reading in.)
The books in this Mom's Coffee Break Basket are: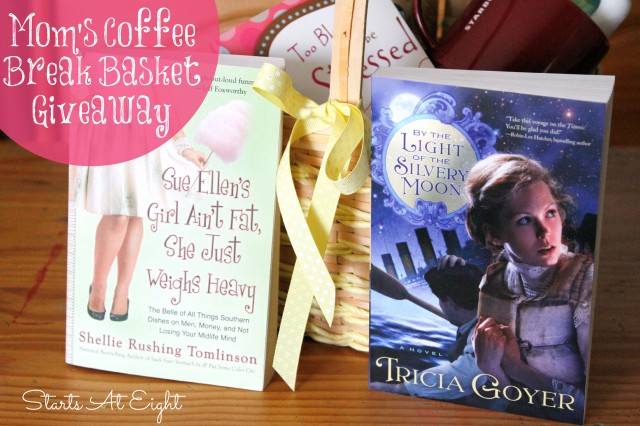 Sue Ellen's Girl Ain't Fat, She Just Weighs Heavy – by Shellie Rushing Heavy:  Guided by principles from the ancient Belle Doctrine, the host of radio and television's All Things Southern offers down-home advice on everything from health and fitness-managing thy caloric calculations without going Straight Running Crazy and surviving the Raging Inferno Syndrome (aka hot flashes)-to the Southern art of handling your man (Bubba Whispering). Whether giving business tips or debunking the Big Boned Theory, making political observations or celebrating the inevitable resurgence of big hair, Shellie is an adviser women can relate to and laugh with regardless of their age or which side of the Mason-Dixon they call home.
By The Light Of The Silvery Moon – by Tricia Goyer: Amelia Gladstone's hopes are tied up in the Titanic–hopes for a reunion with her sister and an introduction to an admirer. But when she offers a spare ticket to a down-and-out young man, her fate is about to change.  Quentin Walpole is stunned when a sweet lady secures his passage to America–and even more surprised to find his wealthy father and older brother on board the ship. Suddenly Amelia finds herself caught between the attentions of two men, but who should she entrust her heart to? As the fateful night arrives, will Amelia lose everything to the icy waters?
To Blessed To Be Stressed – by Debora M. Coty: With her own offbeat brand of wit and near-wisdom, inspirational humorist Debora Coty addresses heart needs of women drowning in the churning stress-pool of busyness. In Too Blessed to Be Stressed, women will find simple, practical steps for healing, refreshment, and revitalization of the spirit, body, and faith. Whether they re struggling with stress related to finances, health, career, relationships, self-image, or family. . .this humor-filled volume will deliver a much-needed smile and equip them with simple-to-implement tips for attaining the peace we all crave the peace that passes all understanding.
The Godiva Chocolate bar is for those need to indulge moments!  The kids are driving you nuts, the laundry is piled up, or maybe you just have a super busy schedule that is running you ragged.  Indulge in some chocolate, I know it always makes my day brighter!
Finally, I included some of my favorite lotion from Bath and Body Works.  This particular scent is called Into The Wild.  I love their lotions and body sprays because they offer you a subtle fragrance as opposed to an overbearing perfume.  They often help me to feel cleaner, brighter, and more feminine despite whatever my day might bring.
HAPPY MOTHER'S DAY TO YOU!!!!