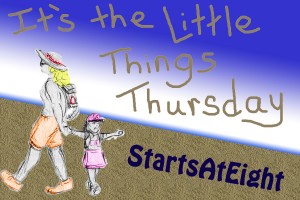 This post is very late going up today.  Life has been busy this week with the addition of Oscar, our new 4 month old Bichon that we brought home with us on Tuesday.  Chloe has been pushing hard for a puppy and I told her I would consider it if she saved her money to pay for it.  This weekend I found an add in the newspaper for ACA male Bichon puppies for $100.

Chloe went racing up to her room to count her money.  Given her recent mishap with money, I was pretty sure she wasn't even close to what she needed.  She came down with about $42 in cash, a visa gift card and 2 Claire's gift cards that she had received for her birthday.  She asked if I would trade her gift cards for cash and then she would still need about $9.  Then Jayden jumps in and counts what little he has to come up with $5, including the $2 bill we want him to keep, not spend.

It was so much fun to get wrapped up in their excitement over just the possibility of a new puppy!  Daddy of course had to be the damper and start listing all the reasons why we would NOT be getting a puppy, starting with potty training, vet bills and all the puppy chewing!  Chloe was crushed!   Instead of pouting, the two of them disappeared upstairs and came back down with a list of things that they would do to help with the dog!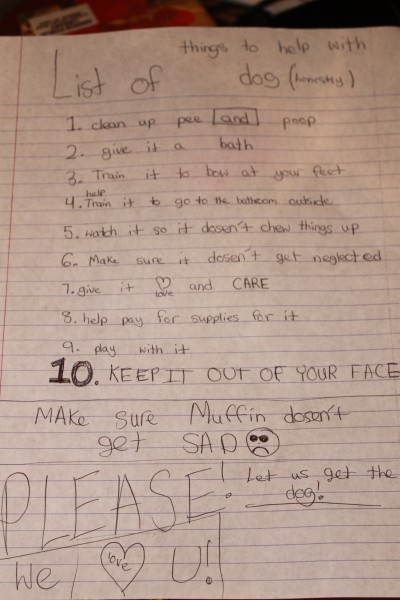 The rest, is quite obvious since we have a puppy in our home!  Joey would not choose to have a dog, but he also would not say that I couldn't buy one either.  Ultimately most of the responsibility and work falls to me anyways.  So far, so good.  Hopefully he will even half live up to the fantastic (just for you Shana) dog that Muffin is!
Please join me in celebrating the "Little Things" that make this crazy journey called "Motherhood" all worth it in the end!  Add your link to the Mister Linky and then leave me a comment. I would love to hear from you!
Mister Linky's Magical Widgets — Easy-Linky widget will appear right here!
This preview will disappear when the widget is displayed on your site.
For best results, use HTML mode to edit this section of the post.