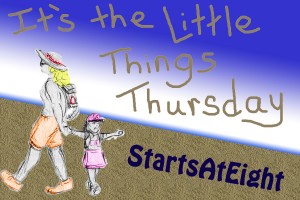 The weeks seem to be just flying by me!  Thursday has crept up on me again!  Today (Wed) we were at the mall shopping for dresses.  Chloe wanted a sundress for her gymnastics banquet later this month.  I have always been in love with sundresses, either the tube top kind or the little stringed ones, but they don't really work well for me.  Since I have lost 20lbs and am feeling better about myself, I decided to give it a whirl.  What struck me as Chloe and I tried on dresses (and mutually mother henned Jayden and Ava) is that she is growing up so quickly.  As I stood in the mirror looking at myself, I found I was turning to her and asking her what she thought!  When did that happen?  My baby, my first born, "la mia bella" (translated in Italian means my beautiful one).
Please join me in celebrating the "Little Things" that make this crazy journey called "Motherhood" all worth it in the end!  Add your link to the Mr. Linky and then leave me a comment. I would love to hear from you!
Mister Linky's Magical Widgets — Easy-Linky widget will appear right here!
This preview will disappear when the widget is displayed on your site.
For best results, use HTML mode to edit this section of the post.