Day Thirty-Nine: Tuesday, February 8th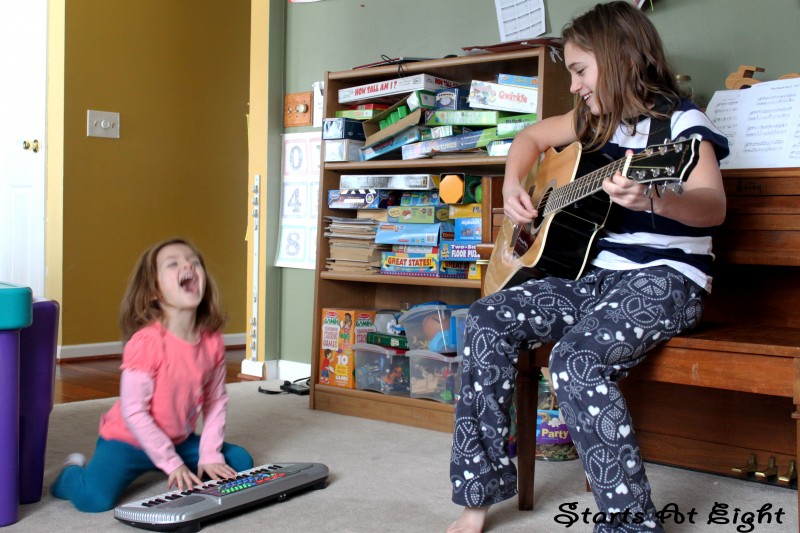 This is the latest "girl band" to hit the music scene.  Their name is Chloe and The Mush!  I can tell from having heard it that their music lacks rhythm and melody, but the joy that abounds from them is contagious!
Day Forty: Wednesday, February 9th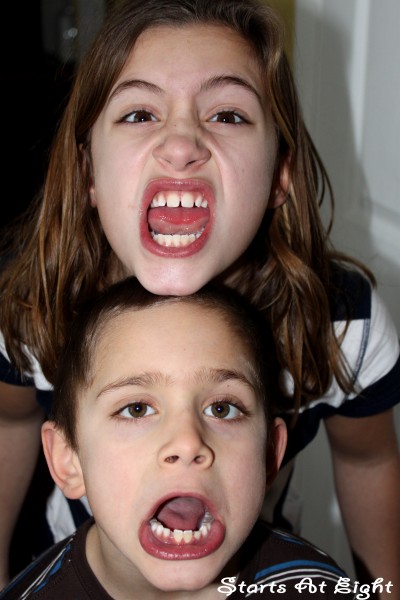 The kids were obsessed with teeth because Jayden had two loose teeth.  Here they are just being crazy and making teethy faces.  Jayden lost 2 teeth in 2 days and at $5 a pop was making the tooth fairy broke!
Day Forty-One: Thursday, February 10th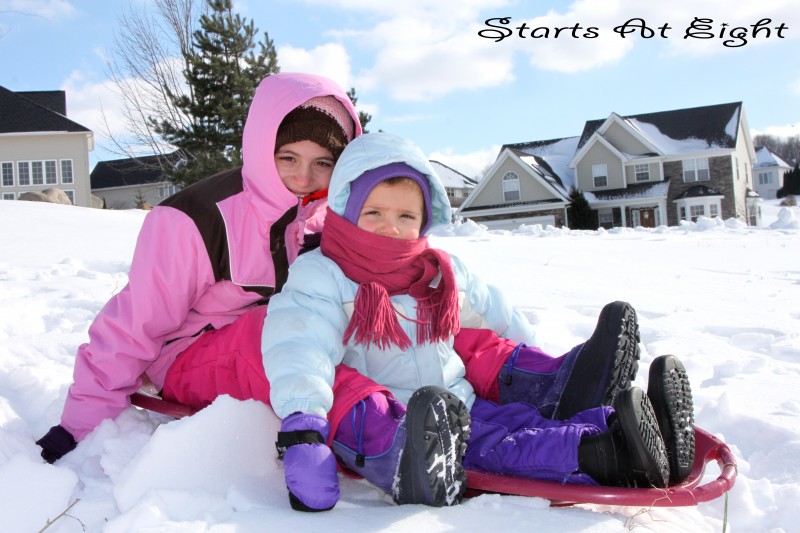 Ava's first meeting with her new Daisy Girl Scout Troop was a sledding party.  The hill was very steep so she could not go down alone.  She was more than thrilled to share a sled with her big sister Chloe!
Day Forty-Two: Friday, February 11th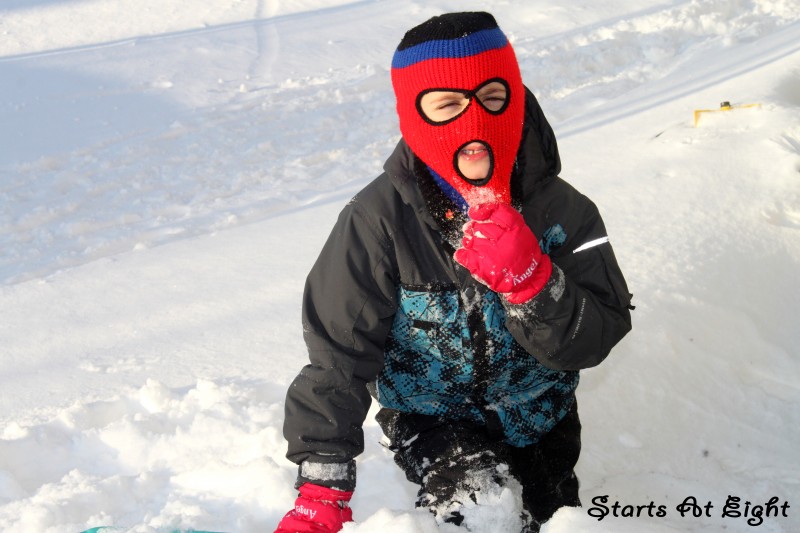 With all the snow we kept getting the kids have spent a lot of time out in the snow.  This is my Spiderman Jadyen enjoying some "freeze" time outside!
Day Forty-Three: Saturday, February 12th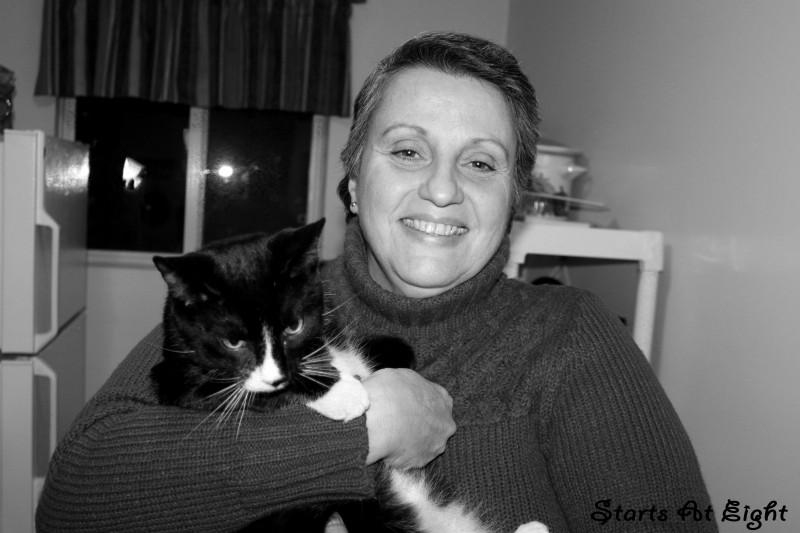 Grandma and her new cat Frankie!  She was thrilled to have this new addition to her life.  He is a very social cat.  Each one of the kids acted as though it was a special prize to get to accompany Daddy when he took Grandma home so they could see Frankie!
Day Forty-Four: Sunday, February 13th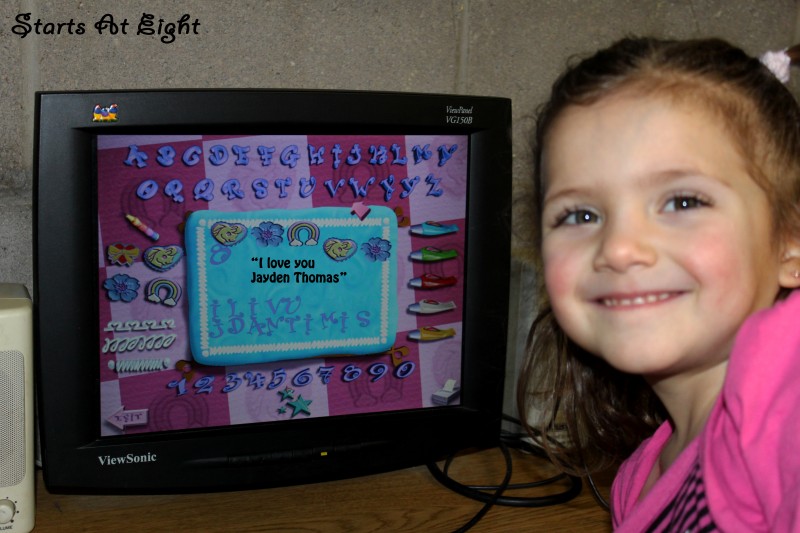 We went to Poppy and Gommy's house for Fondue Night.  For the days leading up to it, all Ava could talk about was how she could not wait to play the My Little Pony game on the computer.  This is the cake she made for Jayden.  In purple letters are what she typed to say "I Love You Jayden Thomas".
Day Forty-Five: Monday, February 14th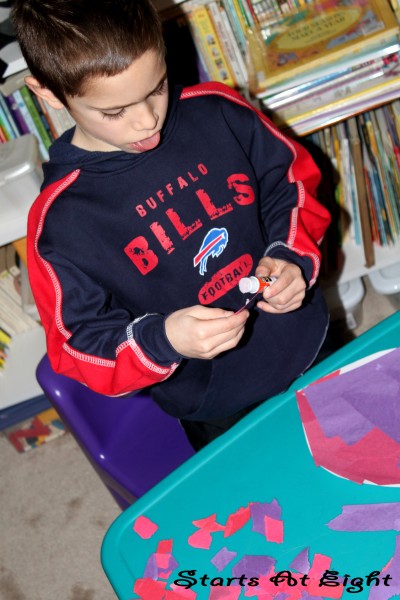 Valentine's Day! We worked on Valentine's Day Acrostic Poems, and decorated hearts with torn up scraps of paper to don the top of our poems.
Day Forty-Six: Tuesday, February 15th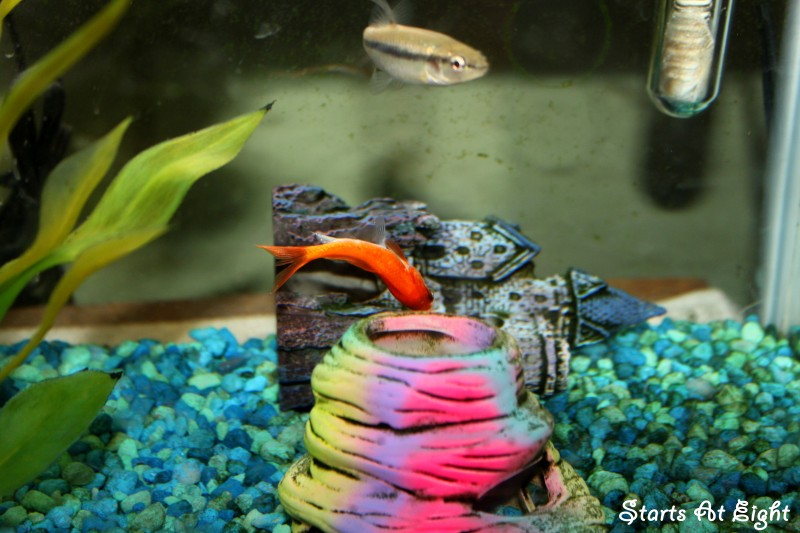 This week was the week of the dying fish.  It was torture for me to watch this poor fish.  Every time we thought for sure that it was dead, it would spread it's gills and wiggle about a little bit.  This poor fish would float to the flow of the filter, getting pushed down under the flow out of the filter, circling around the tank and back again.  If we had a dog that was this bad off we would have the option of euthanizing it, but what do you do with a fish?  He finally lost his battle with life and we sent him flushing down the toilet. 🙁
Day Forty-Seven: Wednesday, February 16th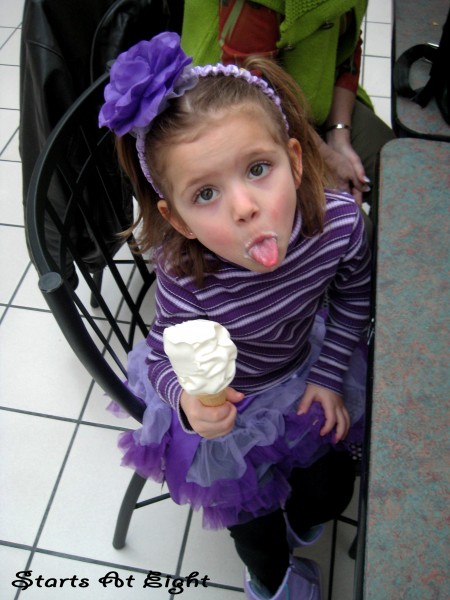 Our usual Wednesday lunch had a special twist to it!  The Tom Wahl's was having a 55th Anniversary special with 99 cent ice cream cones.  The kids could not have been happier about this.  Ava is sporting her new tutu and matching flower headband that she received for Valentine's day.
Day Forty-Eight: Thursday, February 17th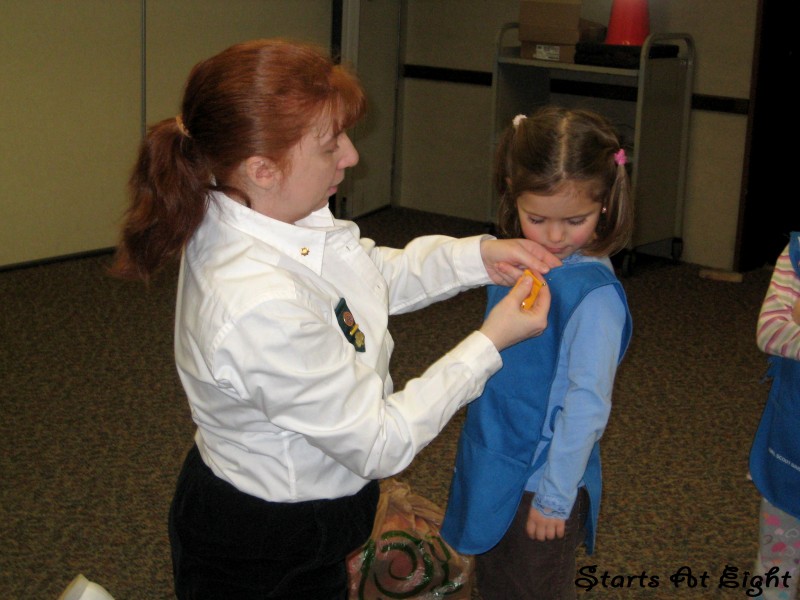 Ava attended her first patch ceremony with her Daisy Girl Scout Troop.  It was like Christmas for her getting all these fun patches to put on her new smock.  She said the Girl Scout Promise:
On my honor, I will try:
To serve God and my country,
To help people at all time,
And to live by the Girl Scout Law.
which earned her the Girl Scout pins that she is receiving in this photo. She also received the center of her Daisy flower and two petals out of the 10 there are. Then for the back of her smock she earned a sledding patch, a plant a seed patch, a Home Schooled patch, and an I'm an Amazing Daisy patch.
Day Forty-Nine: Friday, February 18th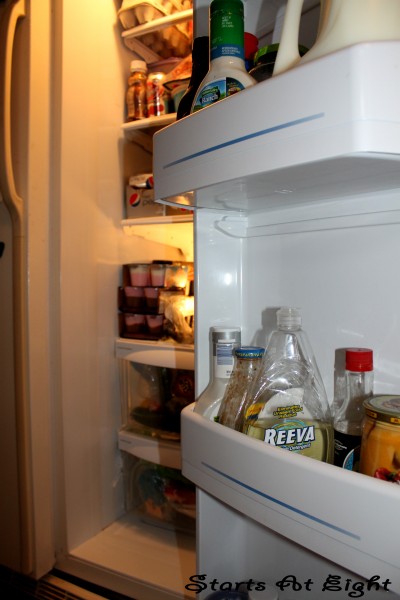 On two separate days, first Joey and then myself, went looking for the dish soap underneath the sink where it usually is.  Neither of us had any luck finding it.  I had looked in the bathroom cupboard, the pantry and hall closet, but could not figure out what we had done with it.  After returning home from the store with groceries, I opened up the refrigerator to put something in and found the dish soap in the door!  We are still not sure who managed to put it there, but it was a fun two day mystery to try and solve!
Day Fifty: Saturday, February 19th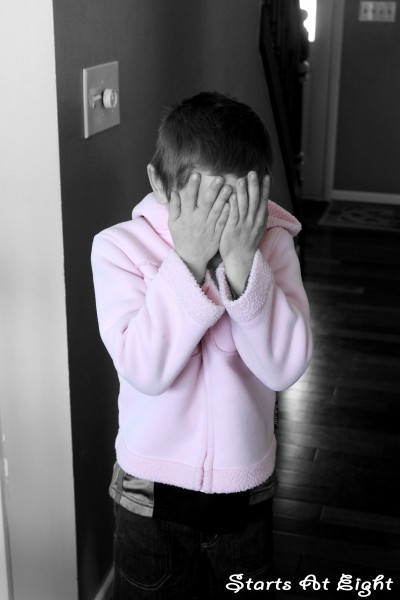 Jayden, Jayden, Jayden.  He thought he was so funny donning Ava's pink coat.  What was funny is that it fit him!  He is still such a little guy for his age that he had no problem putting on Ava's coat who is 3 1/2 years younger than he is!  The problem was that he thought it was all cute and laughable until I decided to take his picture!  Then he thought maybe it might be a little embarrassing to have a photo of him in his sister's pink coat!  (Thus the hands over the face as I whipped out the camera!)